Are you pleased with your Google Search results?
When Tap The Web first opened for business in 2018 the first thing we did was sit down and do a same size comparative analysis of Google Search Results. We wanted to know why one website shows up first in Google Search Results and why other sites show up much lower or even on the third or fourth page. After careful analysis we were able to pin-point what the higher ranking companies all had in common.
Once we were able to isolate what was driving the results, we built Best Practices of Search Engine Optimization into all of our client web-sites. Hosting over 100 websites we have the ability to test and retest techniques and are able to stay on top of changes in Google's algorithms. What worked in 2010 or even in 2021 may no longer work today.
Digitech Office Equipment became a customer in December, 2021. Their old website was virtually ignored by Google. Within months their new website was first on Googles Mapping feature and first in organic search.
A Review left in the Last Week of April, 2023 by Digitech
Since becoming a Tap the Web customer, Digitech Office Equipment has acquired a local dealer in the Albuquerque area. We set up a Welcome Page on the Digitech website for the customers of the dealership they acquired. We then helped transfer the acquired company's domain name to Go Daddy and then redirected that domain to Digitech's website.
Digitech was a Copystar Dealer that is now a Kyocera Dealer. The Dealer they acquired was a Ricoh/Brother Dealer. In a few minutes we add the Ricoh and Brother product lines to the Digitech website.
Digitech is now hiring and looking for a Service Tech. So, we created a Careers page. We have writes up for a Sales Rep., Service Tech. Delivery Driver etc..
Why You Should Not Use Image Sliders in 2023
Image Sliders Are Hurtful for SEO and Customer Journey
Also known as Carousel Images, Image Sliders as of 2023 are things of the past. Even more, with the new Core Web Vital updates of Google, Image Sliders now have also become an SEO hurdle.
I will also provide main reasons why you should remove them from your website, and provide alternative practices which will make a good substitute for Image Sliders
One of the major swifts in website design and development is the use of Images Sliders. In the past, they were quite popular among website developers and designers, approximately between the years 2005 and 2015.
Since 2015 until today in 2023, recognized UX/UI experts from highly reputable sources have addressed the issues that come with Image Sliders overall in terms of user experience.
From an SEO perspective, user experience is one of the major ranking factors for search engines such as Google. That gives us even more reason to take a closer look at those arguments that speak against Carousel Images:
Image Sliders as Hero Images Are Bad for User Expectation and Engagement
Image Sliders as Hero Images are not being utilized among experienced  UX/UI and SEO experts in 2023, anymore.
It is common knowledge for years that having more than one image displayed on the top of your page confuses the user. The user needs to be confronted with one distinctive image that speaks to them, and that image needs to be chosen wisely.
A static hero image has a very important impact on the user. This has to do with what we call "User Expectation". Usually, the user lands on a page based on a search on a search engine, or has clicked on one of the CTAs or teasers on your or third-party website — short story long: The user has clicked on a certain link because they were expecting something. That expectation needs to be fulfilled immediately — preferably within 2-3 seconds — after the user has landed on the page.
The main items and elements that to fulfill the user expectation are the Hero Image, H1 and H2, followed by a short content element. If the landing page you have created is based on research, you should expect the user to go on reading, thus giving the user a good reason to engage on the landing page. That engagement will help your SEO.
An Image Slider does nothing more than to add to the confusion.
Instead of displaying one distinctive image to the user, now the user is being confronted with a mash of images, all of them providing a different message and feel. The user can't get a hold on what actually is the main aspect of the page, instead we are basically expecting them to have multiple personalities.
In the end, a page that has different rotating hero images lacks of getting the message across. It also derives from simplicity and understanding. It's like a sales guy talking about one thing, and then the other, and the the other, with no end.
A/B tests have also revealed that users tend to bounce of the page more often when an Image Slider is used, rather than one distinctive image. No surprise , since users tend to bounce of pages when they feel confused or overwhelmed.
by Dr. William Sen | CEO and founder of blue media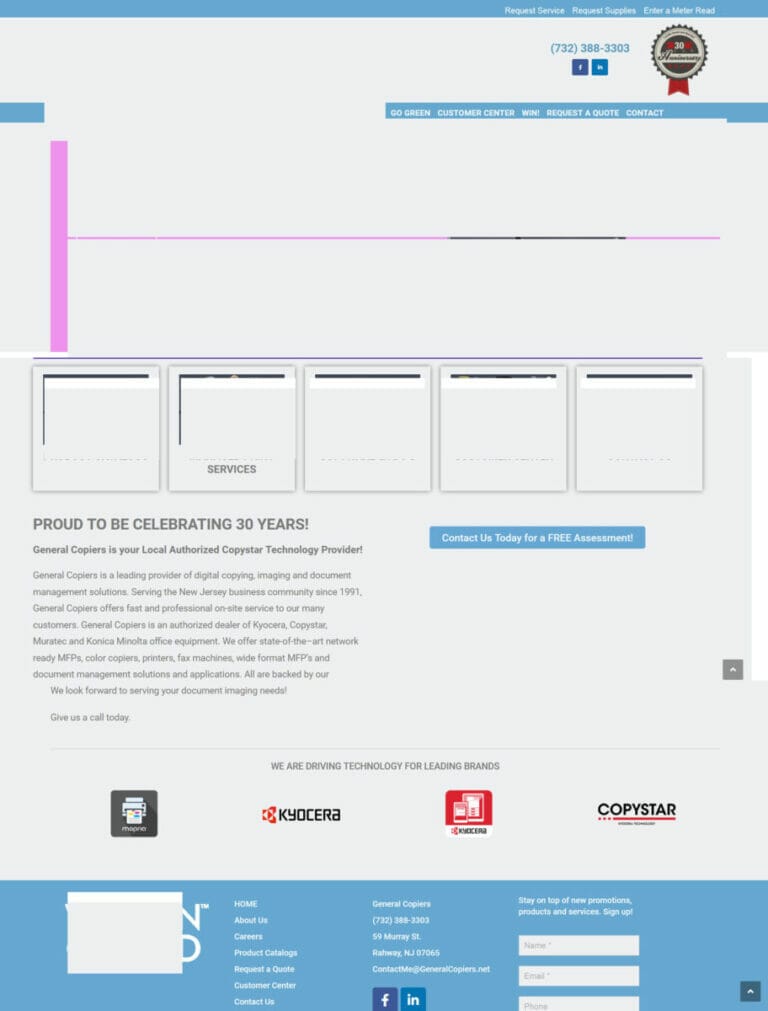 Image Sliders as Hero Images Are Bad for SEO
Since the Core Web Vital updates of Google, every page being loaded into the page is considered a heavy load. If you are going to display 6 sliding images, Google will most likely give you a bad score for what they call LCP (Largest Contentful Paint).
If each of your hero images on that slider you are using have around have 100 KB in image size, than your Image Slider Section will have a load of 600 KB right at the beginning of the page. That's lots of file size and bandwidth for a hero section, and most likely Google will penalize you for that heavy load.
You might have heard that one of the solutions that help preventing Large Contentful Paint (LCP) on pages are Lazy Load techniques. The main functionality of Lazy Load is to load images, when scrolled. However, Lazy Load won't help you in this occasion for a very simple reason: Image Sliders load automatically, thus without the user's action. That means file sizes are adding up automatically even without the user scrolling.
With an Image Slider all the images will usually be loaded without the action of the user. Lazy Load then won't do any good.

On top of that, most of the Image Sliders preload the images anyways, and do not have the new Lazy Load technologies included, thus causing a very bad LCP from Google's viewpoint.

It's also not expected for Image Sliders to support Lazy Load in the future, as Image Slider Technologies are obsolete, already, as discussed in this article. Most of the developers who still utilize Image Sliders aim for target audiences that are usually not SEO-savvy.
Today every company has a website. For a website to be effective, it is important to follow a few steps to make sure potential customers can find your website and then follow through and contact you. It is best to think like a customer when you lay out your site.  Are potential customers going to type "Monochrome MFP" into the Google search bar? Does your "About Us" page mention the major markets that you service? Surprisingly, if you look at the "Our Company" page of most equipment dealers they all talk about "Customer Satisfaction" and a "Commitment to Excellence" very few mention where they are located. Moving up the search engine's listings is not difficult, it just takes a little planning and it helps to know what drives Google's search results.
The placement of keywords on your website is only part of the equation.  What are the terms that your customers are going to type into Google when looking for your product?  You have to make sure that those terms appear on your website. Although the term "Copier" no longer fits today's products, most customers use the term copier when searching for your products. Also, when searching for a color copier many people searching use the terms "Refurbished Color Copier", "Remanufactured Color Copier" and "Used Color Copier" It is important do the research and know what the most common terms are in order to get in front of the largest number of potential customers.
In addition to SEO best practices you want to make sure that your site is well laid out and easy to navigate. Do you have to click on six links before you see a product? Also make sure that your information is up-to-date. Do you still have an Award on your site that you won in 2017? Was one of your products a Buyer's Lab pick of the year for 2018 or 2019? While these are great achievements, they send the customer the message that you are behind the times. Also, not having the newest models on your website makes clients question your commitment to the effort.
A well designed website should get you on the first page of the search results. We also offer help with best practices using Google Business Profile.