Are you pleased with your Google Search results?
When Tap The Web first opened for business in 2018 the first thing we did was sit down and do a same size comparative analysis of Google Search Results. We wanted to know why one web-site shows up first in Google Search Results and why other sites show up much lower or even on the third or fourth page. After careful analysis we were able to pin-point what the higher ranking companies all had in common.
Once we were able to isolate what was driving the results, we built Best Practices of Search Engine Optimization into all of our client web-sites. Hosting over 100 web-sites we have the ability to test and retest techniques and are able to stay on top of changes in Google's algorithms. What worked in 2000 or 2010 no longer works today.
Appalachia Business Communications Corp. has been a Tap The Web customer since 2010.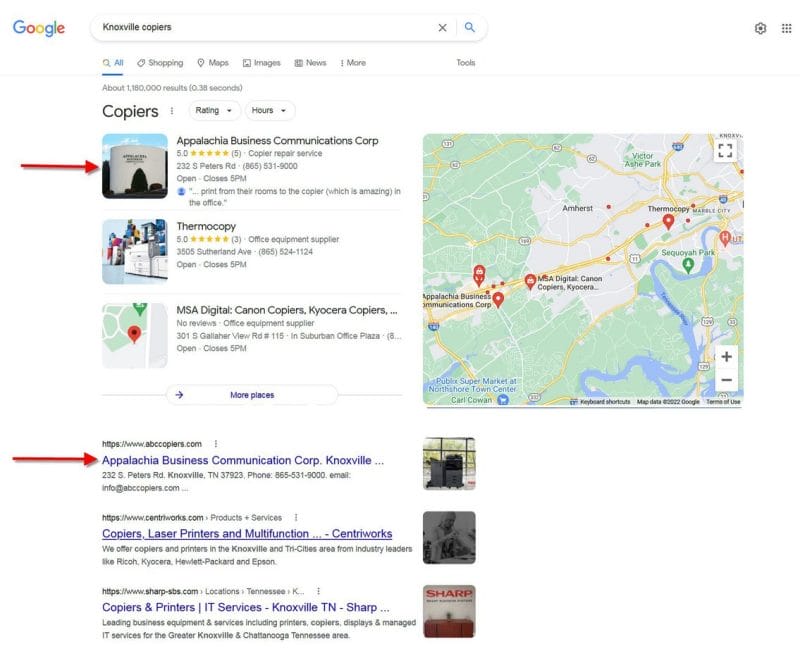 Today every company has a web-site. For a web-site to be effective, it is important to follow a few steps to make sure potential customers can find your web-site and then follow through and contact you. It is best to think like a customer when you lay out your site.  Are potential customers going to type "Monochrome MFP" into the Google search bar? Does your "About Us" page mention the major markets that you service? Surprisingly, if you look at the "Our Company" page of most equipment dealers they all talk about "Customer Satisfaction" and a "Commitment to Excellence" very few mention where they are located. Moving up the search engine's listings is not difficult, it just takes a little planning and it helps to know what drives Google's search results.
The placement of keywords on your web-site is only part of the equation.  What are the terms that your customers are going to type into Google or Bing when looking for your product? You have to make sure that those terms appear on your site. Although the term Copier no longer fits today's products, virtually most customer uses the term copier when searching for your products. Also when searching for a color copier almost one third of those searching use the term "Refurbished Color Copier".
In addition to SEO best practices you want to make sure that your site is well laid out and easy to navigate. Do you have to click on six links before you see a product? Also make sure that your information is up-to-date. Do you still have an Award on your site that you won in 2015? Was one of your products a Buyer's Lab pick of the year for 2017? While these are great achievements, they send the customer the message that you are behind the times. Also, not having the newest models on your web-site makes clients question your commitment to the effort.
A well designed web-site should get you on the first page of the search results. We also offer help with best practices using Google Business Profile.